Source: RoboForex – $30 no deposit bonus.
Period: year 2017.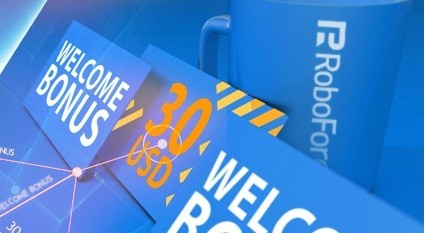 Bonus: $30 welcome bonus.
Requirements :
Verify your personal information
Verify your phone number
Deposit 10 USD to your trading account – you can withdraw at any moment.
Receiving the Bonus
To receive the bonus you have to activate the special code in your Live Account. The code is sent to the participant's e-mail address, which he specified during the registration.
The clients, who fulfilled all requirements for receiving the Bonus, will be sent the letter with the bonus coupon code automatically.
The clients, who verified their personal information and phone number before the period of the offer and didn't receive any other no deposit bonuses earlier, can receive the letter with the bonus code after sending a request to the Company. To do that, you have to deposit your account with the above-mentioned amount of money during the period of the offer and send a ticket to our Live Support
To activate the bonus code, you have to:

Go to "Your Bonuses" section of your Live Account.
Enter the received code into the required field.
Choose the trading account where bonus funds will be credited to.
Read the conditions of the offer and tick the box if you agree.

The Bonus is transferred to the client's account within 5 business days.
Validity period of the bonus code is limited to 30 days. If the code is not used during this period, it will be automatically cancelled and marked as "Expired".
Withdrawal condition: The Bonus can be withdrawn from the account if the total amount of closed transactions is more than:
1,500 microlots (15 standard lots) for Fix-Cent accounts.
15 standard lots for Fix-Standard accounts.
3,000 microlots (30 standard lots) for Pro-Cent accounts.
30 standard lots for Pro-Standard accounts.
more about RoboForex Broker.