Source: RoboForex – Deposit bonuses up to 100% and 115%.
Bonus: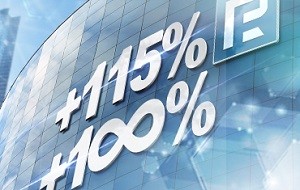 Bonus up to 100% for deposits from $300
Bonus up to 115% for deposits from $500.
Available to: all verified clients.
To get: deposit a minimum $300 or $500.
Withdrawal condition:
No limitation on profit withdrawal.
Trade required lots = (Total amount of Bonus in USD) to withdraw the bonus.
more about RoboForex Broker.