Brent: on the verge of a new collapse?
10/04/2020
The situation in the oil market remains the focus of attention of investors and participants in the global financial market. Participants at the OPEC+ summit agreed on Thursday a total production cut of 10 million barrels per day in May and June. In the future, the reduction will be 6 million barrels per day until April 2022, according to the OPEC press release.
Nevertheless, despite the joint decision taken by Saudi Arabia and Russia to reduce production, investors are still worried that the reduce in OPEC+ production may not be enough to support prices in the coming weeks. World oil consumption in April may fall by almost 35 million barrels per day, some oil market analysts predict.
"The fundamental indicators of the oil market are terrifying, they are much worse than ever before", the OPEC Secretary General said on Thursday. According to him, the volume of free oil storage capacities in the world is more than 1 billion barrels, "world oil reserves may increase by another 1.3 billion barrels, which will lead to the full use of oil storage capacities in May".
Further prospects for an agreement to jointly reduce oil production are vague, and in countries such as the US and Canada, authorities are not able to quickly reduce oil production. At the same time, a number of other leading oil producing countries have not yet given their consent to reduce production.
The OPEC+ negotiations revealed contradictions between the main producers. It is possible that the oil market is on the verge of a new collapse.
On Thursday, after rising in the first half of the trading day, prices again went down.
ICE Brent crude futures fell 4.1% to $ 31.48 a barrel, gaining more than 10% earlier in the day.
In the event of a breakdown of the support level of 29.70 (EMA200 on the 1-hour chart), the price of Brent crude oil may resume a downtrend and head towards recent multi-year lows near the level of $ 22.60 per barrel. Below the resistance level of 35.50 (ЕМА200 on the 4-hour chart), long-term negative dynamics prevail and short positions are preferred.
Support Levels: 29.70, 27.10, 26.70, 22.60
Resistance Levels: 35.50, 40.00, 46.00, 50.00, 51.70, 55.00, 56.00, 56.90
Trading Recommendations
Sell Stop 29.50. Stop-Loss 35.70. Take-Profit 29.00, 27.10, 26.70, 22.60, 21.00, 20.00
Buy Stop 35.70. Stop-Loss 29.50. Take-Profit 40.00, 46.00, 50.00, 51.70, 55.00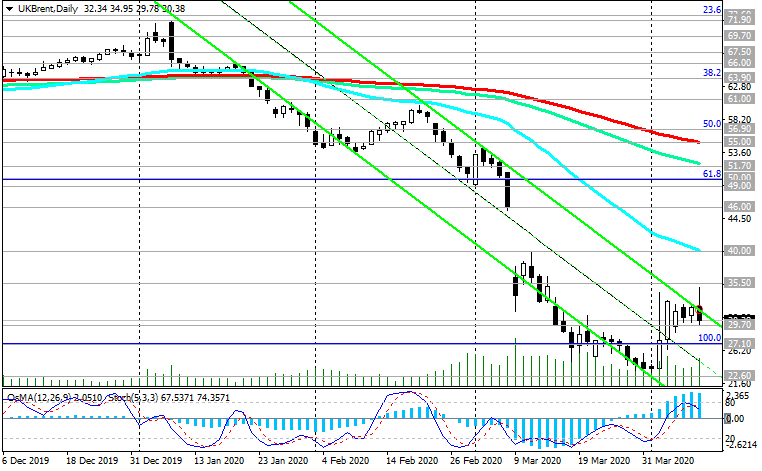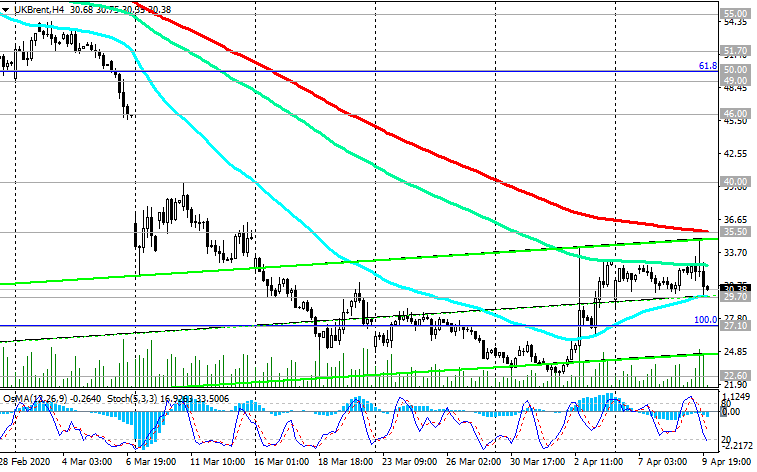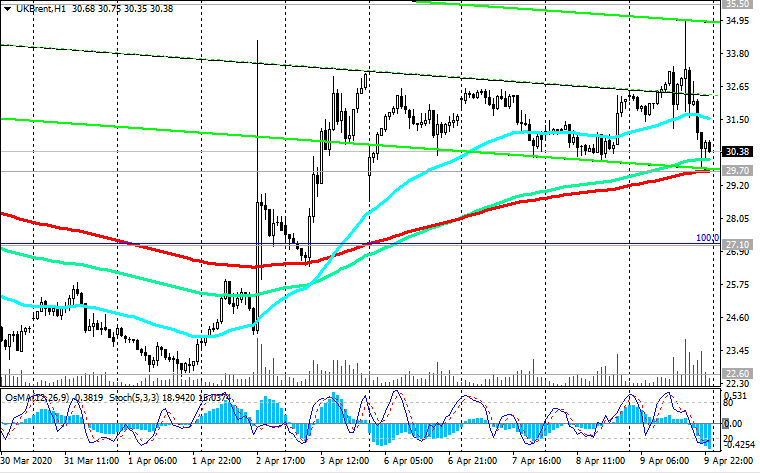 *) For up-to-date and detailed analytics and news on the forex market visit Tifia Forex Broker website tifia.com