EUR/USD: negative dynamics persist
13/02/2020
According to the quarterly report submitted by the European Commission on Thursday, the eurozone's total GDP will grow by 1.2% in both 2020 and 2021. Thus, the European Commission confirmed the forecasts presented in November 2019.
Among the main risks, the European Commission indicated an outbreak of coronavirus and the uncertainty of US foreign trade policy.
The downward risks for the economic outlook were somewhat weakened after the conclusion of the first-phase trade agreement between China and the USA, as well as after the EU and Great Britain managed to avoid Brexit without a deal. However, uncertainty persists, and new sources of risk have emerged, one of which is coronavirus.
"The economy of the Eurozone may receive support from a softer and more stimulating fiscal policy, and will also be positively affected by soft financial conditions in some countries", the European Commission added.
The inflation forecast for 2020 was raised to 1.3% from 1.2%, and the forecast for 2021 - to 1.4% from 1.3%.
The head of the ECB Christine Lagarde also spoke in January about the negative impact on the economy of the Eurozone by the protectionist policy of the United States.
During a January 23 press conference, Lagarde said the Eurozone economy is facing "downside risks" due to increased protectionism, bearing in mind, among other things, the threat of US President Donald Trump to impose import duties on European cars.
Great Britain left the EU on January 31, however, internal political tensions and uncertainty in the Eurozone remain, but there are no significant signs of a recovery in Europe's manufacturing sector.
It is possible that the ECB will be forced to resort to additional incentive measures, which will further weaken the euro. A recent ECB report suggests that rates could be reduced to -1% or even lower.
For the euro, a negative fundamental background prevails so far, creating the prerequisites for a further weakening of the euro.
EUR / USD is trading in a zone well below the key resistance level of 1.1128 (EMA200 on the daily chart), and so far no recovery is expected. Long-term negative dynamics of EUR / USD remains, which speaks in favor of short positions.
To resume growth, the price needs to break through the nearest resistance levels of 1.0953 (EMA200 on the 1-hour chart), 1.1035 (ЕМА200 on the 4-hour chart).
Support Levels: 1.0850, 1.0800
Resistance Levels: 1.0895, 1.0953, 1.0995, 1.1035, 1.1092, 1.1128
Trading Recommendations
Sell Limit 1.0890, Sell Stop 1.0860. Stop-Loss 1.0910. Take-Profit 1.0800, 1.0700, 1.0600
Buy Stop 1.0955. Stop-Loss 1.0920. Take-Profit 1.0953, 1.0995, 1.1035, 1.1092, 1.1128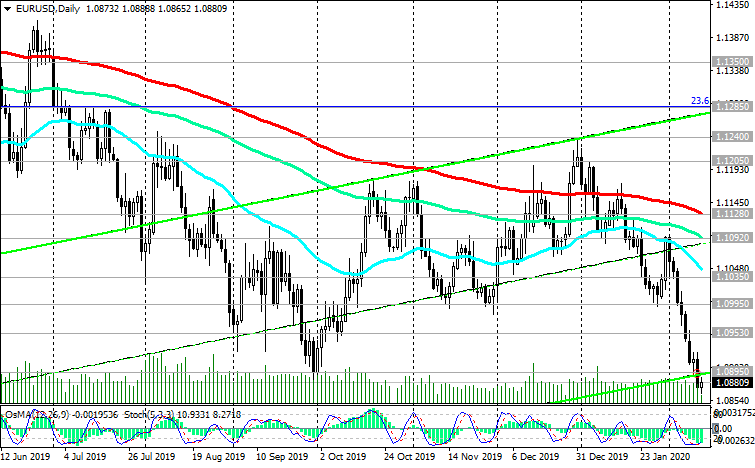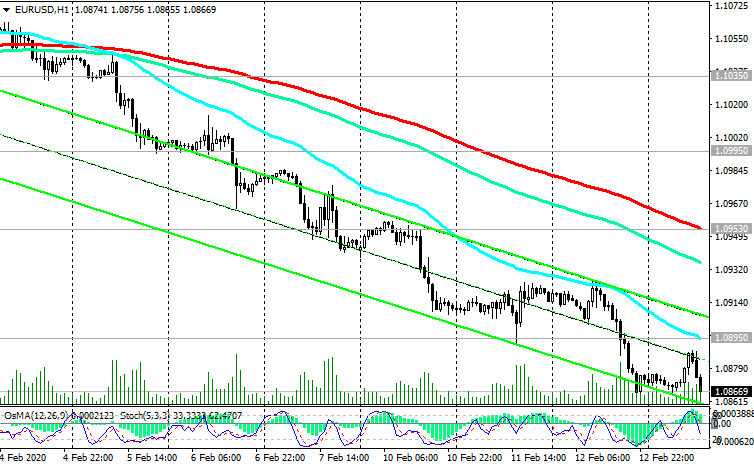 *) For up-to-date and detailed analytics and news on the forex market visit Tifia Forex Broker website tifia.com