You may now begin to understand that you will acquire a significant amount of experience before you can experiment with forex, gold prices, etc using well-designed stop-losses and profit targets. Latest forex prices are available from www.XE.com while gold prices can be found at www.bullionvault.com.
Unless you know what you are really doing, these markets possess such an unpredicted nature that they are easily capable of shutting down your active positions if they are only protected by minimum stop-losses i.e. up to 50 pips.
In addition, attempting to trade the financial markets is made even more complex, especially for novices, because you are constantly advised to devise well-tested trading strategies. You must then use these tools to open only high quality trading positions possessing good risk-to-reward and win-loss ratios. However, to achieve such a nirvana will involve beginners expending copious amounts of both time and money to accomplish this objective.
So, is this the only approach or do novices have any other plausible solutions? Yes, they do especially if they can attain or design a trading strategy that is based on a suitable philosophy that is able to come to the rescue. For instance, the large stop-loss strategy looks very strange as its main concepts appear to contradict many of the recommended principles associated with trading the financial markets. Basically, this strategy advises that you trade using a very large stop, in the order of 500 pips, whilst plundering profits of 50 pips or so per trade.
This idea could even be consider as a macro version of the scalping strategy favored and employed by many investors and designers of automated robots. When scalping, the idea is to nip in and out of trades very quickly both exposing you to minimum risk as well as seeking very small profits of 5 to 10 pips. In addition, a strategy based on these concepts is best applied when the financial markets are quiet such as the times when no fundamental data is scheduled for release.
You will appreciate immediately that a large stop of 500 pips is extremely difficult for any market to stop-out. Consequently, such a strategy can then provide beginners with a basis from which to trade because they no longer need the essential knowledge that is required to protect normal trades.
No doubt you will say that the risk-to-reward of 10:1 is appalling and, at first sight, you would be correct. However, you must understand that the effort required by the forex markets to knock out a 500 pip stop-loss is exponentially higher than that of closing down a 50 pip stop-loss. So, the basic concept is to attain an excellent win-to-loss ratio which will counter the appalling risk-to-reward one. For example, if you can capture 6 wins of 70 pips versus 1 loss of 360 pips, then you would gain a profit of 60 pips. However, although this appears idyllic, this strategy must be conducted in a correct fashion.
This is because if you do not exert caution then your positions could become isolated in a losing zone. If price remains trapped in such a range for extended time periods, e.g. months, then you will be loss any possibilities of recording new profits during this time, as shown in the following diagram.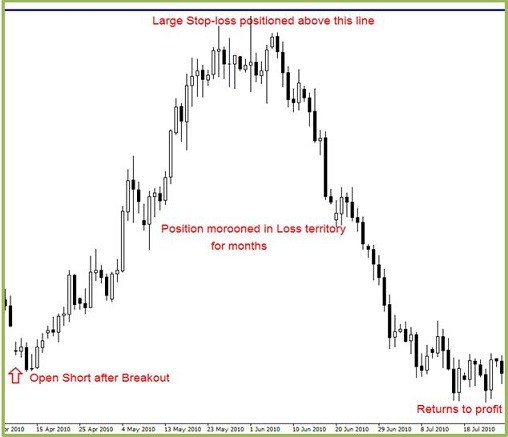 To overcome this difficulty, you will need to deploy a well-proven money management strategy.  For instance, under such circumstances you should only wager between 0.1% and 0.2% of your total account balance per trade. In doing so, you will preserve a large percentage of your equity should your position be stopped out. You will also be able to afford price to become isolated for some time by allowing it time to drift back into winning territory. Also by staking so little money, you will be able to initiate numerous positions concurrently.
The major attraction of this strategy is that it provides beginners with the ability to make errors which they would be not be able to do so if they deployed small stop-losses of, for example, 50 pips per position. You may respond by querying that capturing just small profits of 25 to 40 pips would have a restricted impact on your account balance. However, you would be wrong since a sequence of successive wins could allow you to attain exponential financial growth even if you just wager between 0.1% and 0.2% of your equity per trade.