Source: ECN4X – "Flying Bird" Real Trading Contest.
Registration period: October 22 – November 04, 2012.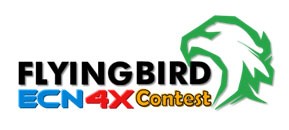 Starts: November 05, 2012.
Ends: December 03, 2012.
Available for: all clients with real account, all account type.
To participate:
Register new account or login to client cabinet.
Click on the icon/banner in the first page after login on Cabinet to join the contest.
Deposit at least 100 USD.
To win: Get highest equity, while equity is computed from (Profit /Total deposit) x100%
Prizes:
First Place : 2.012 USD
Second Place : 1.010 USD
Third Place : 759 USD
Fourth Place : 359 USD
Fifth Place : 209 USD
Sixth Place : 109 USD
Seventh Place : 109 USD
Withdrawal condition: Withdraw or use trading at your choice.
Have you trading with ECN4X  Forex Broker? What is your experience? Read/submit ECN4X  reviews.