Source: 4XP – Worldwide Demo Tournament.
Starts: 1 January 2013.
Ends: 1 February 2013.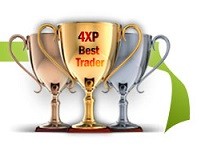 Available for: all clients.
To participate: create a contest demo account.
To win: have the largest credit at the end of the month.
Prizes: 
1st place- $3,000 Live Account
2nd place- $1,500 Live Account
3rd place- $500 Live Account
Withdrawal condition: need to trade required numbers of lots.